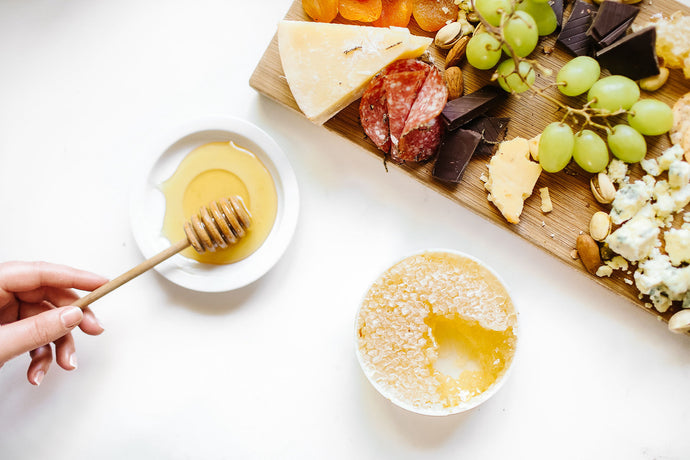 Whether you love entertaining as much as Donna Reed herself or are the reluctant hostess, chances are that you'll find yourself prepping food for some sort of gathering over the holidays. Rather than going for the boring stand-by cheeseball or the store bought tray of cookies (though, both can be delicious in their own right, don't get me wrong!), here's a round up of five unique (and creative!) charcuterie boards to make this holiday season:
01. Breakfast Board.
For the past several years, Greg and I have been getting together with the same group of friends every Tuesday night. We've done it all... tacos, spaghetti, pizza, sandwich trays, and various casseroles. But hands down, our favorite go-to group dinner is breakfast - or "brinner" as we call it. A breakfast board with pancakes (or waffles!) along with bacon, and sweet and savory toppings to choose from would for sure to be a crowd pleaser. Source: Completely Delicious.
02. Baked Potato Board. 
Warm, fluffy, and cheesy baked potatoes on a chilly night always sounds like a good idea. Even the pickiest of eaters would be happy with this as a main course.  Source: The Reluctant Entertainer.
03. Caramel Apple Charcuterie Board.
Skip the Christmas cookies and take a caramel apple board. This would be such a fun alternative to bring as a dessert for a get together! I mean, plus, there are apples, so it's healthy. Right? Source: Salted Harvest Creatives.
04. Holiday Leftovers Board. 
For me personally, I prefer Thanksgiving and Christmas dinner leftovers over the actual meal. Anyone else with me!? Mix it up a little by taking the leftovers and making a fun leftover board - perfect for constructing that coveted leftover turkey sandwich. Source: The Reluctant Entertainer.
05. PB&J Board.
Last but not lease, for the kids - or the kids at heart! Peanut butter & jelly, potato chips, trail mix, popcorn, and apple slices make up this kid-friendly snack board and will please the adults, too. 
Source: The BakerMama.