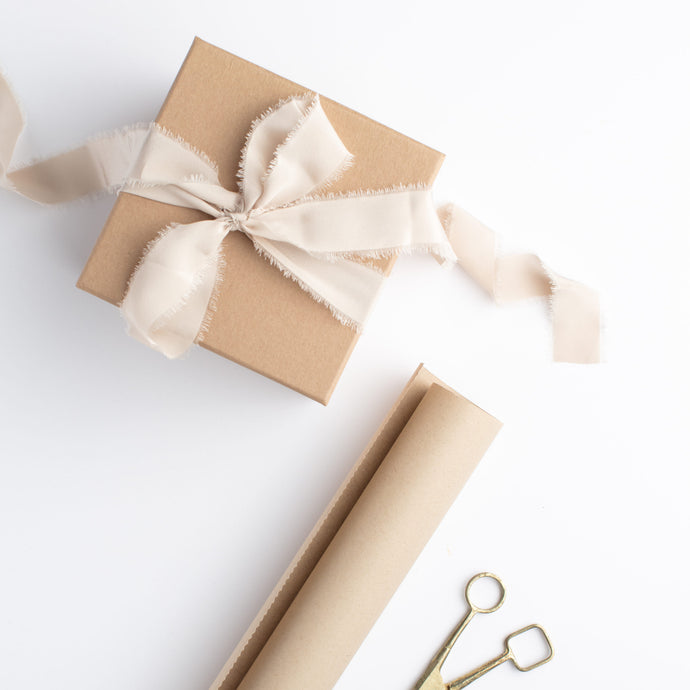 I don't know about you, but one of my very favorite things to do is to get the Christmas shopping and the wrapping done early - I'm talking before Thanksgiving kinds of early. I find that there's so much less stress around the holidays if you don't have to wait around for that last-minute gift to arrive, the presents are all pretty, and they're all perfectly arranged under the tree far in advance.
I also love the process of wrapping the Christmas gifts. I always wait until the house is clean because--let's be honest: everything is more enjoyable when the house is clean, am I right? Then, I'll put on a Christmas movie. (Most likely White Christmas or Christmas in Connecticut) to set the mood. Once that's all done, I lay out all of the needed tools, wrapping paper, ribbon, and gifts on the dining room table, and wrap away.
In the spirit of the gift-wrapping season, I've rounded up nine of my gift-wrapping must-haves. I hope they help you have a stress-free, organized, and enjoyable time wrapping your gifts early so that you can truly enjoy Christmas!
01. Kraft Paper: Use kraft paper to mix in with your more expensive (or hard to find) wrapping papers. It will make the other designs you use pop more and make the "look" stretch further. (I can't be the only one that tries to create a "vibe" with their wrapping paper line up, right?) Plus, a roll of Kraft paper is always good to have on hand around the holidays. We use it to cover the kids' tables for Friendsgiving and Christmas parties. Just give the kids a mason jar filled with crayons and let them get creative! (Bonus Tip: If you end up using your kraft paper to cover tables, make sure you get a roll that is 30" wide so it will cover the whole width of a standard folding table.)
02. Linen Ribbon: Raw linen ribbon is all the rage right now, but it can be expensive--way too expensive for wrapping a gift that will be torn open in a matter of seconds. Amazon to the rescue! There are plenty of options, but this one in particular comes in great colors and at a great price, too!
03. A Designated Gift Wrap Tool Box: This is a MUST for me. I love having all of the tape, scissors, ribbon, and gift tags all in one place. It's convenient, easy to move everything if you need to change wrapping locations, and just keeps everything neat and tidy in general. While I try to get most of the wrapping done in one sitting, there is always that random unexpected gift you need to wrap for your husband's boss or your kid's teacher... or the aunt you forgot. (Hey, it happens.) That being the case, I keep the gift wrap tool box in the guest room closet through the holiday season. Then, when the holiday season is over, the box gets stored with the Christmas decorations in the attic, ready for the next time around. Just doing this one little thing has saved me a lot of unnecessary stress.
04. Antique Brass Jingle Bells: I love putting an extra finishing touch on gifts with a gift topper. Rather than purchasing "official gift toppers" from the store, I opt to buy mini ornaments and/or jingle bells. They're cheaper and you end up getting a larger quantity in one purchase.
05. THE BEST Ribbon: While I was searching for linen ribbon on Amazon, I came across this. The amount of ribbon you get for the price is crazy good - so good that I was skeptical. When I got it in the mail, I immediately ordered another roll in black. It's THAT good. It makes your gifts look effortlessly put together and I love how you don't have to worry about bows getting crushed when you go to transport gifts to the in-laws.
06. Wood Gift Tags: These are so cute, inexpensive, and such a simple way to really amp up your wrapping game. In years past, I've had several people save theirs and use them for ornaments!
07. Mini Pinecone Tag Add-Ons: These little pinecones are another favorite to use as gift toppers. They give you a big bang for your buck, and it shows that you went the extra mile without spending too much time or money.
08. White Paint Marker: I feel like I've spent years looking for the best paint marker that will write on black paper and/or gift tags like No. 6. I think this one is the one! They're inexpensive, long-lasting, and I find that it works so much better than a typical chalk marker. Plus, chances are that the tags won't get used again, so you don't have to worry about it being able to come off.
09. Designated Gift Wrap Scissors: Right up there with having a designated gift wrap tool box, I love having designated scissors. You don't have to worry about them being dull or getting lost in the home office or kitchen junk drawer. The ones linked are my favorite for gift wrap cutting.