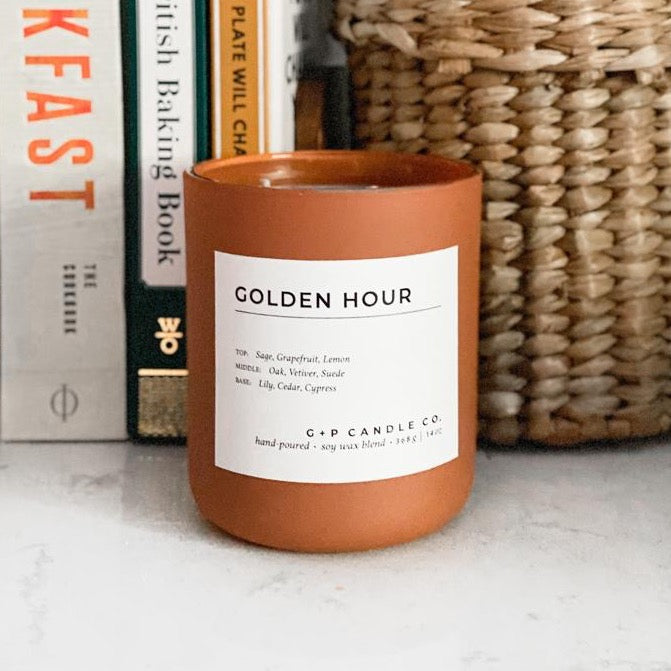 Golden Hour Candle
Regular price $42.00 Sale
If you like clean-scented candles, you'll love the new Golden Hour scent. This new signature fragrance is so unique! It's straight-forward fresh and clean fragrance is rounded out with an unexpected, yet lovely, base note of suede.
As soon as you take it out of the box, you'll immediately notice that this isn't a typical candle. Its beautiful and substantial matte terracotta glass vessel and minimalistic label provides a modern aesthetic that will blend with any decor style. Once cured, the candle is carefully packaged in a kraft gift box.
Grace + Porter candles are hand-poured (right here in our kitchen!) using a combination of ultra premium phthalate-free, vegan fragrances and a proprietary blend of cosmetic and food-grade waxes. Its improved double lead-free cotton wick provides an even, clean burn and an amazing fragrance that will fill the room.

Scent Notes: 
grapefruit, sage, vetiver, oak moss, cedar wood, lily, suede
Details:
• 12oz, hand-poured
• soy wax blend
• double led-free cotton wick
• 100% palliate free
• Dimensions: 3.75" wide x 4.2" high

Burning Notes:
For a clean, smokeless, long-lasting burn time, trim wick to about 1/8". Keep wax free from wick trimmings and debris. For best results, do not burn for more than four hours at a time. Never leave a burning candle unattended and keep out of reach from children (and fur children). When your candle is done, this specific vessel is perfect to be repurposed in your home. To remove leftover wax, place the jar in the freezer (cold temperatures cause the wax to contract from the glass) for several hours and scrape out any excess wax with a dull knife.